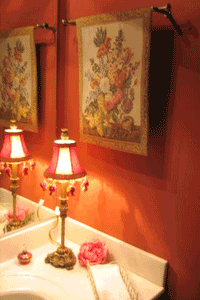 Testimonials
"We were initially hesitant to invest in staging, but in hindsight I'm ever so glad we did. Andrea's attention to detail and eye for color showcased the beauty of our home to prospective buyers with magazine-quality presentation. Her passion for interior design and space planning, together with her insight into what really sells, accelerated the sale of our house and helped us get top dollar. We will definitely be working with her again!"
David and Lisa
"We hired Designz to update and brighten our older home. The makeover was incredible. Andrea made every room inviting, cleaner, and brighter. The response from all our neighbors and friends who have seen the change is testimonial in itself. We cannot say enough about her knowledge and professionalism. We are now enjoying every room in our home. The only bad side—my kids want to move back home!"
Donna and Bill P.
"Andrea Schwartz of Designz recently staged my home before it was listed for sale. I enjoyed my experience working with Andrea from the beginning. First, she thinned out each room by removing excess furniture. Then she strategically repositioned the remaining furniture to make each room more inviting... In the end, my concern that the finished house wouldn't resemble my home was completely unfounded. The house showed as the best possible version of my home. In fact, Andrea decorated my home so beautifully that it sold for $6,000 over list price in just five days, and for significantly more than any other home in my neighborhood. I highly recommend working with Andrea Schwartz of Designz."
Carolyn B.
"Bravo to Andrea! After being out of our home for 8 months after flooding due to Sandy we were ready for decorating. I was totally confused and indecisive about making choices and then Andrea arrived to help. Her taste, manner, decisiveness and WONDERFUL selections are now being implemented and truly she has turned the "titanic/ disaster of my home" into something lovely and elegant. She listens carefully and makes an overwhelming process easy-- and the outcome is just lovely! BRAVO and gratitude to Andrea."
Judith and Stuart C.
"Working with Andrea of Designz was fantastic. We wanted unique designs for our new office's entry and conference room. When Andrea presented the final plan she showed how well she listened. She fulfilled ideas for creative conference room decor indicative of our business and that could be implemented in stages. She offered choices for the entry depending on our budget choice. An added surprise was that she stayed well under budget for the billing. We are very happy!"
Shawn Mitchell, Modern Mechanical
"Thank you for all your help with paint colors and staging. You went above and beyond-timelessly-and always cheerful and smiling with lots of energy."
Susan and Alex
"Andrea was very responsive to our needing a paint consultation on short notice. She spent time looking at flooring, stone and cabinet samples in the midst of the torn up construction site to coordinate the colors. By the time she was finished she made recommendations for transforming our plain old basement into one that looks state of the art. We did not change one brush stroke! It was fabulous with exactly the warmth and style we were looking for. It takes someone with great imagination to select colors under the conditions that Andrea had and have things turn out so well. Great job, Andrea!"
Cindy and Jim P.
"What a delightful decorating experience we encountered with Andrea. She focused on our existing taste in colors and décor. We went from room to room and she pulled out a playground of gorgeous colors. Coming from a white on white interior throughout, it was a tremendous joy to see her suggested colors flowing from room to room, blue greys being our starting focus. She stretched our thoughts on both wall and furniture colors. We also asked for suggestions of contractors for various parts of our home renewal. Each one was outstanding!!! Upon her leaving, she suggested an exterior front door color.......a beautiful "grey blue". That made 16 new color tones for our home that "flowed". We simply love the look and feel with endless thanks to Andrea!"
Debby M.
"With the new paint color palette changes, you saved my life."
Berk B.
"Andrea was an educator plus a hands on designer. She moved the furniture around to its best location understanding its function until she was satisfied. She wanted to really make sure that she gave us the best possible options for everthing. We applaud her!"
Hannah and Mandar
"Andrea's ideas were "right on" every time. As a result, Pete's new title for her is Wonder Woman. Andrea assisted us with coordination of custom window treatments, redesign of a loft and ideas to incorporate our current style into upcoming projects. She is personable yet professional and keeps the client involved at every step. We highly recommend Designz to anyone interested in redesigning and redecorating their home with flair and up-to-date style."
Kathleen and Pete W.
"Designz flipped 2 rooms...my office/family room became my new 1st floor bedroom! Andrea didn't bat an eyelash at my limited budget, took me to stores I could afford, and helped me choose accessories in a color palette which would never have occurred to me. She redesigned the furniture floor plan and suggested new paint, carpet and window treatments and created a spectacular design. The whole experience has been a complete joy."
Elaine W.
"Andrea presents herself with flair and energy. She has redesigned my living room and accented many areas of my home. She has added faux ivy to painted walls and accented greenery with unique lights. Andrea coordinated the paint scheme for an entire floor of my home. The colors she recommended flow together to make the entire area fresh and new. Andrea's prices are very reasonable and I am very happy with her work."
Elizabeth H.
"With her fabulous personality, fresh ideas, and funky edge, Andrea organized, accessorized and individualized my home and de-stressed the decorating process. Andrea helped me organize my thought process and then acted as a personal shopper, adding new pieces such as dining room chairs, floral arrangements, and art work. She also helped me choose fabrics, coordinate pillows, replace kitchen and bathroom hardware, decorate plant shelves and select kitchen appliances. I can't wait to work with Andrea of Designz with her personal flair again!"
Amy C.
"This is the best remodel I've ever seen and I get to live in it. "WOW!" my husband said. In an economy where spending is limited by budgets, a room re-do is the most economical way to re-work the room and fall in love with the items you already have...making your home new again. Furthermore, this process is "green"...reduce, reuse, recycle and re-purpose."
The S. Family
"Andrea is a multi-talented designer. Her eye for color is excellent -- she helped me select paint colors for several rooms in my home, and all of the rooms were definitely enhanced by her choices. Her "decorator skills" are great too -- she helped me shop for, select, and arrange furniture, accessories, and wall art. Along the way she threw in helpful suggestions for renovations I was doing. And I give her extra credit for her high energy and her creativity.... definite assets in her line of work!"
Jo P.