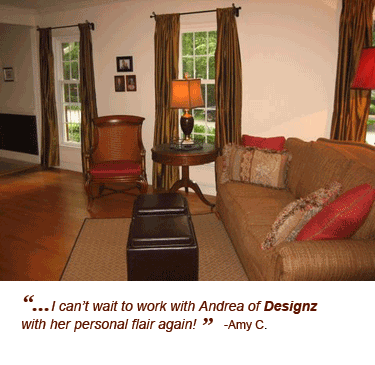 Interior ReDesign
Interior ReDesign is the creative three-step process of rearranging your furniture, accessories and artwork to produce a fresh new look at little cost. It is an affordable luxury!
First, the reDesign will provide new style and function using décor items you have. It will all occur in less than one day. We will reDesign a room by "shopping" in other areas of your home for the perfect furnishings, accessories and artwork. The reDesign creates the inviting effects of conversation groupings. Creatively aligning accessories generates decorative vignettes that suddenly make sense.
Secondly, Designz can reCreate a room by changing its form and function. You may wish to change your Dining Room into the Library you've always wanted and have your Living Room become a Great Room.
Lastly, rePurposing is using an existing item in a new and creative way. Using an ottoman for a table base or a placemat for wall décor are examples of rePurposing.
Is your bookcase bursting with bric-a-brac? Is your china cabinet a calamity? Is your fireplace mantel a mess? Are the countless paint chips giving you a headache? Designz can help you with these smaller projects as well.
No need to buy new furniture and incur great expenses—let Designz reDesign your home in just hours at little cost.
Take a look at the redesign and staging photo gallery.