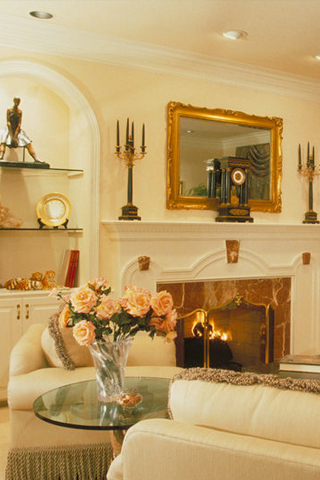 In the News
Is Your Home Ill with THS?
Here's the Rx
Perhaps you've just moved and are unpacking your cartons. Maybe you've been living here for five or six years. In both situations you realize your home is not the wonderful sanctuary you thought it would be—it just lacks energy. The diagnosis is…THS…"Tired House Syndrome". An intervention is needed!
The cure to what's ailing your home's décor is probably right in front of you.
Interior ReDesign is the remedy. It is the rearranging of your furniture, accessories and artwork and produces a fresh new look. It can be accomplished in a day with this easy three step prescription.
First, the reDesign will provide new style and function using décor items you already have. Be ambitious and create it in less than one day. Start with a large piece of furniture such as a sofa and face it toward a focal point. Add a table and a couple of chairs nearby and you're on your way to correcting your room's chiropractic misalignment. No clogged arteries though, keep traffic patterns open. Create the inviting effects of conversation by grouping furniture instead of spreading it out around the room's perimeter. You can go "shopping" for other items needed right in the next room, upstairs or in a closet. The good news is this doesn't cost you anything!
Second, reCreate a room by changing its form and function. Change your little used dining room into the library you've always wanted. Turn that benign and boring bedroom into a yoga studio to cure a migraine. Add a dose of energy to your rooms by integrating some outdoor flowers and foliage. Use the bright spray paint you stored away as an antidote for any anemic accessories.
Third, rePurpose a fabulous ottoman into a coffee table base. The placemat chargers you only use at Thanksgiving can be enjoyed year round as a dramatic wall statement. Transplant the basket collecting dust in the garage into the bathroom for the perfect towel or magazine vessel. Turn a pot upside down and create elevation for a plant or statue.
Follow this formula to invigorate your home and you will save thousands of dollars buying furniture you don't need. The prognosis for THS will be positive…a long life of enjoyment ahead!