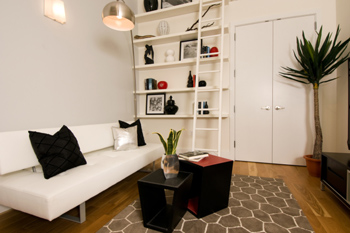 In the News
Ladder Décor—Am I Off the Wall?
Part of decorating or redecorating is about having fun with it! You can look around in your garage, attic, mudroom or utility room for just the right inspiration, hmm…maybe a ladder.
About 30 years ago, I joked with my husband when he walked in the door with a grin on his face. He had just purchased an expensive extension ladder at Home Depot. "For what you paid for that," I exclaimed, "we should put it on display in the living room!" A light bulb went off.
A ladder in decorating can be much more than a way to reach the top shelf of the wall unit in your library. Think about it, there are straight ones and "A" shaped ones and different sizes too. Turn your head just a bit as you look at a ladder and you go from a vertical to a horizontal one and each direction will show off its unique stature and purpose.
Let's look at vertical ladders. If you have a section of wall that's built out at least 20", maybe it's a closet, put a ladder against the side depth portion and you now have a ladder that points to the top space above and height in the room is created. If you have space above this projection of wall, that's even better. You can now create a striking vignette on top of this built out section that can be theme or color oriented. You can make this display using the design principles of texture, color, scale, balance and rhythm. For example, stack some books this way and that, show off your baskets, high and low, that are hard to store anyway or create a mini garden of greens in various sized pots on top of this projection.
Think about the various rooms in your home. A vertical ladder in a bathroom can hold color coordinated towels in different sizes and textures. It's a natural to hold your magazines too. Decide if it's better to stain or paint it. To make a statement, use a contrasting color from the wall behind it. Likewise, create a more spacious look by having it blend in with its background.
In the bedroom or family room a ladder against the wall is perfect for hanging afghans or quilts. It is also great storage for those that are out of season. In the front hallway, lean a ladder against the wall and add hooks to it. Now attach baskets and utilize it to store hats, scarves and gloves. Extra decorative hooks can be added to hold coats and jackets. Again, a hallway ladder with a special hanger can show off the wonderful jacket you purchased at a craft show.
Another idea is just to have a ladder leaning against a wall that goes nowhere, it's just pure décor. Paint it funky colors and patterns. It fills a wall space much the way art work or shelving would, but much more creatively.
Now consider any uses for a ladder in the horizontal position. Mount a ladder that's close to the floor but has some support beneath it. Leave a space and mount another one on the wall parallel and above it. Voila! Now there is a means to store books that's a little different than just a bookshelf. In a similar fashion, a ladder mounted higher on a wall can be the way to display a collection. It can be the perfect way to show off several teacups and teapots in the kitchen. Speaking of the kitchen, suspend a ladder horizontally over an island on chains, add decorative hooks and hang your polished pots and pans from it.
In the family room, mount a horizontal ladder on a wall above a sofa. Hang photos in picture frames in each of the wall squares created by the rungs. Use the same frame in each square to show continuity and the ladder can be a contrasting color. Again, in the family room use a small step ladder, cut a piece of plywood in a circle or square, stain or paint and you have a wonderful end table for next to a chair or sofa. There's even a step that you can place a small planter on. Need an extra buffet table for a party? Take two step ladders, straddle them with a long plank of wood or even a door from off its hinges and you've solved the dilemma. All you need now is a table cloth.
In your guest room, where you may have a bed without a headboard…Line up and mount ladders above it both vertically and horizontally to create an interesting pattern of squares. Get creative and paint the wall inside the openings or mount a large piece of fabric first before you add the ladders. You'll have an interesting, rustic look for behind the bed and even some storage for a small lamp, tissue box, books and artwork.
Outside, lean a ladder against the house for the perfect trellis to support a beautiful vine. Lay a ladder down in a garden spot and you can grow flowers or vegetables in each of the squares to keep the garden neat and trim.
Hmmm, now what about the next time your husband comes home from the hardware store with a new wheel barrow?