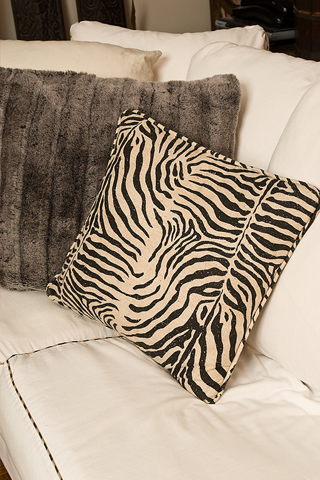 In the News
Decorate with CENTS and SENSEibility
It is soothing and satisfying to live in a home that creates a pleasing environment. Welcome friends and family into your home and "WOW" them with décor that stimulates all five senses. This can be accomplished creatively and with affordability.
SIGHT
Color creates visual impact with a very small investment. Today's paints are manufactured with built in primer and often need only one coat for wall coverage. Do you need energy in your office and kitchen? Look at the yellow, orange and red palettes. Blues and greens evoke tranquility and will offer a good night's sleep in the bedroom. In either case, you can compliment your main color with harmonious ones, those several shades lighter or darker or choose complimentary ones across the color wheel. If you need inspiration for a paint color, look at your wardrobe and choose the color of an article of clothing that makes you feel happy and comfortable. Then select a shade or tint of it to paint your room. Use color accents the same way you add accessories to your outfits.
SOUND
Some sounds in our home environment can be either music to our ears or unfortunate annoying disturbances. We should all strive to have soothing sounds be part of our home décor. A babbling fountain for an end table can be purchased very reasonably at a local home store. Calming music from your CD collection or stereo contributes to a pleasant auditory experience. Consider purchasing a well priced appliance service contract to keep your furnace and air conditioning units operating efficiently and quietly. Newer dishwashers are virtually silent and save you money with their latest technology.
SMELL
Air fresheners and scented oils will also contribute beneficially and economically to the home environment. In addition, lightly scented candles offer beautiful and romantic aromas. Be careful to have scents blend. Of course a little goes a long way. Don't forget to open your windows on a beautiful spring day so you can smell the fresh air. Use the branches of your outdoor trees and pine cones from your yard to add lovely fragrance to a cozy winter fire. A beautiful and fragrant floral bouquet can be reasonably purchased from a local warehouse store or gathered from your garden to add ambiance to your decor. Branches of pine add a fresh and clean aroma all winter long, not only during holidays.
TOUCH
Texture in décor makes the visual part exciting. A soft blanket and a furry pillow make you feel comforted. Combining and contrasting fabrics of silk and microfibers in and on your furniture create great interest to the touch. Sleek granite on countertops is cool to the touch and a cost effective way to update a "tired" kitchen. Hardwood and area rugs of different types of pile make you feel like running barefoot in the house. Today's flooring of "snap and click" hardwood or laminates have been manufactured to help the homeowner save thousands of dollars by doing the installation themselves.
TASTE
There's nothing like sharing the wonderful environment you've composed with friends and family. Invite them to an inexpensive pot luck dinner at your house where each of you share with the costs and each others culinary creations. A summertime barbeque provides an easy smoky flavored lunch or dinner. A pretty display of jars filled with candy is ready for guests or trick or treaters. A home baked apple pie is delicious, affordable and spells out L-O-V-E. Keep inexpensive bags of chips and salsas for drop in guests and they will make you feel like a hero.
Don't feel that a "sixth sense" is necessary to give your home that special look. By following a few basic principles and letting your creative juices flow, you'll surprise yourself with your success.
Andrea Schwartz, IRIS, is owner and the interior design consultant of Designz — rePurpose, reCreate, reDesign. She provides an energized experience for her clients and can blend your current possessions with new selections to create your signature style. You can contact Andrea at (703) 861-1311 or info@AndreaDesignz.com to help you with your interior design challenges.